Working from Home
Work from home allows you to be as flexible as you want, when you want. When you work full time away from home you just do not get the freedom to work around your personal commitments. That is why we have a lot of mothers and students working on both the chat service and also the psychic and tarot lines. Basically working from home with LiveLines UK allows you to choose the hours you want to and allows you to become your own boss and plan your log on hours at times that suit you. There are very few work from home opportunities that are as reliable and as well paid as working on the chat service or on the psychic and tarot lines. Each service is buzzing with callers wanting to speak directly to you. You can log on when the children have gone to bed or are at school and you do as many or as little hours as you like in one session.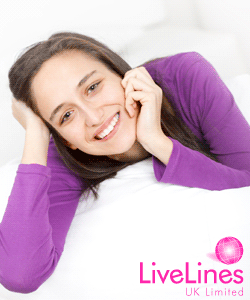 LiveLines UK has been in operation since 2000 and we provide our services to a UK and International market, so we are always tremendously busy with lots of callers dialling in 24 hours a day. If you want to try a new opportunity today or are looking for a way to earn extra income then we have some amazing opportunities that may benefit you. We offer a smooth and fast sign up service where training is given over the phone; once this is completed you can start taking calls straight away. If you are interested in work from home jobs with a dedicated company that wants to help you make healthy revenues then please consider LiveLines UK as your choice. Here at LiveLines UK we are so enthusiastic about our wonderful operators and we hope that you too can take this chance to become your own boss and start your work from home venture.
If you decide that working from home is the best option for you, we have two opportunities that you can apply for. Our Psychic reading service is fantastically popular and we receive calls continuously 24 hours a day. If you have previous psychic or tarot experience or you feel that you have psychic qualities then please do apply for this position. We are also recruiting dedicated medium and tarot card readers to join our ever expanding psychic brands. If you do not have any psychic ability then you next best choice is signing up for the chat service. It's here that our live chat service takes thousands of calls daily from men throughout the UK who want to speak to genuine ladies like you. If you can talk for Britain and have a sense of humour then this position may be best for you. Working from home as either a chat line operator or as a psychic reader gives you the ability to earn money at your own pace whilst enjoying the freedom of not having to come to the office everyday! Start being your own boss today and work from home with LiveLines UK.
To telephone us please call: 01604 824290
(open Monday – Friday 9-5pm)
Email queries out of office, please email: Lauren@livelinesuk.com